Mike Tyson said he will "continue to go further and do more" in the boxing ring after his return to the sport ended in an engaging draw with Roy Jones Jr.
The 54-year-old former world heavyweight champion ended 15 years of inactivity to take on 51-year-old Jones in a high-profile pay-per-view 'exhibition' – but fears the pair would serve up a some form of money-making farce were not realised as they did enough to provide entertainment.
While rap artist Snoop Dogg said it was like watching "two of my uncles fighting at a barbecue" during his stint as a ringside commentator at the spectator-less Staples Center in Los Angeles, boxing legends including David Haye, Lennox Lewis and George Foreman expressed satisfaction.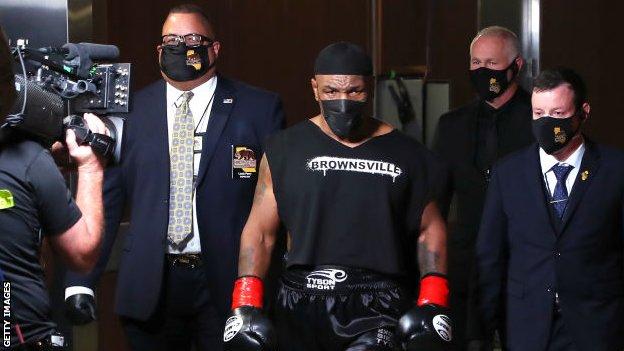 There were glimpses of the past as Tyson swayed from the hips, ploughed forward and tried to unload shots, while Jones sought to move fluidly, though he was visibly drained by the halfway stage.
Tyson landed a couple of eye-catching left hooks, some solid body shots and unquestionably forced the pace. Many on social media felt he had won well but the judges – not employed by the sanctioning body but by the WBC to offer added entertainment – thought otherwise.
Tyson said he was happy with the draw and made clear his future pursuits would not be in a professional capacity: "This is bigger than championships, we are humanitarians, we are helping people. I'm happy I got this under the belt and I'll continue to go further and do more."
Jones, a former four-weight world champion, said he would talk to his family before considering fighting again, and added: "I don't do draws but the dude is so strong man. When he hits you, his head, his punches, his body shots, everything hurts. I'm cool with the draw."